This Week's Featured Player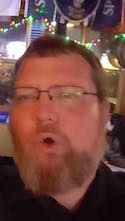 Jeff Lell gets his wooo on in preparation for the Ton80 Home For Wayward Dogs And Darters Housewarmingpalooza on August 5th, Jeff and Staci will be rolling out the welcome mat as the Walker Drive Tossing Grounds see their first action. WOOOOO!!!!

STAT CORNER
Standings for the 2012 APB regular season can be seen here.
Complete statistics and results from the 2011 APB Championship Tournament are now available.
To view the Official All-Time Statistics, download these player stats.
What's your handicap? Take a look here.
Updated 5/22/12

Boccélism Term
of the Moment
Boc
(noun) - (Pronounced like "botch") The result of any Big Stay, except when playing cut-throat. In addition to the usual hit, quarry, and bonus points, the tossing player steals any points scored by his opponent during the dalrymple, or gets immunity from being bocced in that dalrymple. If the player initiating a quarry gets a boc and the responding player also gets a boc, negating the extra benefits of boccing, the second player is said to have gotten an Answer Boc.