In honor of Mister Jim Tanner's 40th birthday, a six-case exhibition was put on as part of the festivities at the Tanner Farm on Saturday, June 23rd. The opener pitted Mr. Tanner himself against Mr. Jeff Wormsley (known simply as Worm to his legion of fans).
The players found hits hard to come by, with the score tied at 14 at the end of regulation. Worm finally caught some tin initiating the fourth Extra Quarry, but Mr. Tanner responded in style, sending the buckets spinning across the thick grass to take a 16-15 victory.
In subsequent action, Messrs. Lingerfelt & Bruner left the buckets largely undamaged (admittedly it had been over five years since their last experience with the game), with Mr. Lingerfelt building an early lead with the help of two first-end stays and holding on to win 16-10.
The traveling contingent from the Edgewood-Kirkwood, Atlanta Chapter then took the field, determined to show the locals the way the game was meant to be played. Mr. Stephen Priest and Mr. Lee Wilkins did not allow an ayrault to mar the score sheet, with Mr. Priest winning a 36-28 bucket-basher.
At this point the foolhardy Mr. Keith Yium issued a direct challenge to Worm, with predictable results. Worm proceeded methodically to demolish Mr. Yium, with a second-dalrymple clover included in the 29-18 "contest."
Perhaps the highlight of the evening was the debut of Mr. Luigi Baccala in a match against fellow newcomer Mr. Nate Gayle. Mr. Gayle took a 3-0 lead with a first-quarry stay, but after that Mr. Baccala was unstoppable, going 9 for 12 in the second end and capping his performance with a 10-point clover in the seventh. With darkness gathering and a lopsided score, Mr. Gayle was permitted by the judge to attempt a Quick Ganesha leading off the eighth, putting a merciful end to the 36-5 affair.
Tossing concluded with sibling rivalry mixed doubles, played with low visibility under improvised lighting. The Tanner brothers faced off, joined by Mrs. Wormsley and her sister; the four-some struggled through the difficult conditions, with Team Waide emerging with the 17-8 win.

---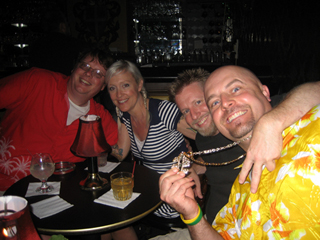 updated: June 25, 2007 - (04:17:47 pm)