This Week's Featured Player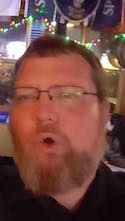 Jeff Lell gets his wooo on in preparation for the Ton80 Home For Wayward Dogs And Darters Housewarmingpalooza on August 5th, Jeff and Staci will be rolling out the welcome mat as the Walker Drive Tossing Grounds see their first action. WOOOOO!!!!

STAT CORNER
Standings for the 2012 APB regular season can be seen here.
Complete statistics and results from the 2011 APB Championship Tournament are now available.
To view the Official All-Time Statistics, download these player stats.
What's your handicap? Take a look here.
Updated 5/22/12

Boccélism Term
of the Moment
Spinner
(noun) - A descriptive term for a hit that causes a bucket to rotate rapidly around its horizontal axis. A hit that causes both buckets to rotate thusly is known as a Double Spinner.